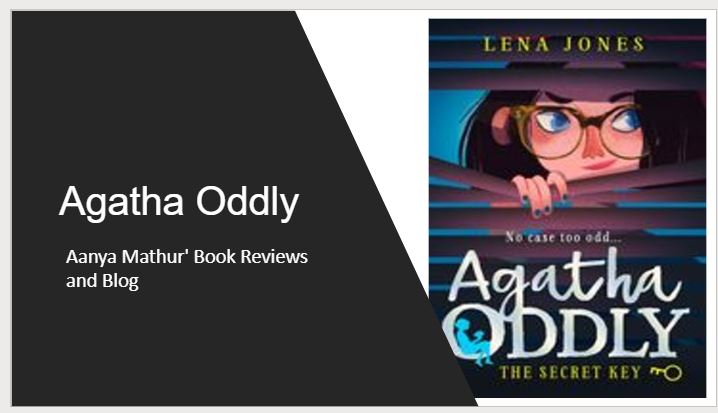 Book Review - Agatha Oddly by Lena Jones
She is as stubborn as anything, and when she is determined a few guns, threats, her friends and even her own family cannot stop her from getting to the truth.
Agatha Oddly by Lena Jones is about a girl, who has curiosity running through her veins; determined to find the truth. Agatha Oddlow has been a detective for as long as she can remember – she's just been waiting for her first big case. And nothing gets bigger than saving the City of London from some strange goings-on. With a scholarship to the prestigious St Regis School, a cottage in the middle of Hyde Park, a room full of beloved sleuthing novels, and a secret key that gives her access to a whole hidden side of London, Agatha is perfectly poised to solve the mystery of what's going on. But just who can she trust when no one is quite who they seem…
Summary
Agatha Oddlow is so determined to be a detective, that sometimes she lets it get ahead of her. In the principal's office again, with the headmaster ranting about the list of rules she has broken and how she has done. But Agatha has a special talent which is to switch channels, zones out, and lets her imagination run wild. When the lecture is finally over, she goes to meet her best friend Liam, and her accomplice in her secret agency; no case is too odd.
The next day is no different from the last, as she walks her way to school. She hears a loud motorbike behind her and before she knew it Agatha is staring at an unconscious woman. Could this be an accident, or a deliberate hit and run? Things don't get any less fishy when she finds a piece of crumpled newspaper in the lady's hand and a suspiciously familiar key tattoo on her wrist. She soon starts to investigate when the next things she knows there are red algae oozing from her tap.
The whole city is in mayhem and torn with riots coupled with water shortage and hot summer. Agatha is sure she is the person to get to the bottom of this case, with help from her friend Liam, the tech genius, and an unexpected friend along the way.
But however a man with a Glasgow accent is threatening to shut her up, and another mysterious man talks to her dad about the problem at 2 am in the morning. Why is the company Alpha Aqua suddenly producing a water purifier? Are all these questions the answer to the case?
But there is only one big question haunting Agathas head at the moment which being what had happened to her mother and how is she related to the happenings around her? The only thing that will help her solve this case, something that has the power to tear a hole in even the closest relationships apart is of course THE TRUTH. But how far is Agatha willing to risk her life to get to the end of this mystery.
Review
My friends were the first ones to recommend this book to me, but I thought it didn't look very interesting. However, once I picked it up, I couldn't put it down! I feel confident saying that this book is very climactic and has constant thrill and action. In addition to this, the way Lena Jones has written it out, makes the language easy to read for younger readers, however it doesn't lose its older audience. I have never read anything, even a bit similar to the plot I read in this book. At the same time as reading it, I have got to experience a mystery at my own doorstep in London which always brightens any book.
But hands down, one of my favourite concepts in this book was Agatha and her "switching channels" I love the idea that she doesn't have to be disabled or hurt in any kind of way to be generally different. She just has a wild imagination which ends up helping her to solve the mystery. In most books, the detective has some similar qualities, but this girl has a unique ability that stands out from the rest.
Furthermore, at the end, when you think the main villain is defeated, the author introduces new questions to keep your mind guessing. I absolutely cannot wait to read the next book in the series which I hope is filled with as much anticipation as the last.
"Ah, Mademoiselle Oddlow – trouble is all around. But heroes are rare."
One of my favourite things about this book is when Agatha switches channels and she talks to the main protagonist of the Agatha Christie books. This just slots perfectly into the fact that Agatha herself is named after the author of the famous detective series and how she has a history of sleuthing in her blood. It's like the world just wanted to make her a detective, and no matter how many times she gets into trouble, she kept trying and eventually bags her first big case!!
She is as stubborn as anything, and when she is determined a few guns, threats, or her on friends and family cannot stop her from getting to the truth. And throughout the book, that sort of decision making is constantly reflected from her actions.
This book can be classified under the murder mystery, young adult, action, and children's genres. I would recommend this book to readers between the ages of 10 and 15.
In conclusion, I would give Agatha Oddly by Lena Jones a five out of five for being a diamond in the ruff. The perfect book for young detective lovers !!
About the Author
The true authors of this book are Harper Collins and Tibor Jones. A new Boutique Packager who have developed the Agatha Oddly Series with help from a team of talented new writers. They all worked collaboratively in creating this book with the interesting fact being that Agatha Oddly was actually published under the false name of Lena Jones!
Similar Books
If you liked this book, then you would surely like to lay your hands on the below titles :
The Taylor and Rose mysteries by Katherine Woodfine
Sinclair's mysteries by Katherin Woodfine
The Adventures of Sherlock Holmes by Sir Arther Conan Doyle.
Murder Most Unladylike by Robin Stevens
Deadly by Design by Carina Axelson
Age Group